Jean-Denis went hog wild with the posts today. Some great links (I just wanted to use the phrase hog wild)

Weston Schaffert...this link is for you. Think about the kind of details it takes to show effort.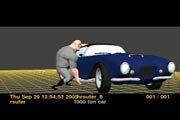 Raphael has some great work on his site.

He also posted a bunch of image from my friend Jonathan Paine's site.


Jonathan is in that insanely talented category of artist...I love his bugs bunny sculpt, which he did from observing the chuck jones cartoon.